Drawings
now browsing by category
Happy New Year Everybody,
Well its been a long 2016 and I am super happy it is finally 2017. A new chapter, a new year full of crafty stuff. And on that note let go back to Christmas as we did something totally different this holiday with my family.
What we ended up doing is a "Create Your Own Gift" exchanged. Honestly it was a bit refreshing to see what my sisters would come up with. Since they have different forms of craftiness. For example I can't sew to save my life but my little sister Rosemary has an amazing eye for it. The second eldest sister has an awesome talent to look at a room and make it look beautiful. Which I can not.
Luckily for me I drew my Bother-in-Law so I didn't have to try to sew or figure out what went well in a room. Few dodged a bullet there! And speaking of bullets I though what a perfect gift to give a gamer then a T-Shirt with Bullet Bill on it.  Now my Bother-in-Law is not a tiny man. He as tall as a Tree and skinny as one too.  So no 8.50 X 11 image could be placed on this XL shirt.
No I had to use my Silhouette Cameo 12 X 24 Mat to get the Stencil done. Much like I had to do for all his shirts.  Now I have never bleached a shirt in my life…. Well not on purpose any way. So I went to http://www.instructables.com/id/How-to-bleach-shirts-with-custom-designs/ to see how I could make this happen.
Bullet Bill
Since I was using my Silhouette I didn't really use 80% of the items posted. Instead of freezer paper I used just plan old packing paper ( You know the kind of stuff that comes in Amazon boxes) and packing tape to hold down my images. I wanted the T-shirts to look vintage so if any bleach bleed throw it just gave that worn out look.
TellTale – The Walking Dead
Now this one took a little more care to make a layer effect. Since Instructable.com didn't really have anything I could reference I went to the next best thing YouTube. Here I found a YouTuber who can teach you how to layer when you bleach. His YouTube tag is Mad Stuff With Rob: https://www.youtube.com/watch?v=VdnCUvCENRQ&t=451s. Not only his he funny but gives you clear insturctions on how to do his right.
Shadow of the Colossus
This one is my favorite silhouette images I made. However a red T-shirt was not the way to go.  It came out to light and a lot of the details where lost. Overall he seem to really like it any way, which is the reason we even did this.
Well I hope you liked what you see, I hope to post some videos soon.
Hello Subbies,
Well it's late and my kids are finally asleep and I can blog about my day. Today and tomorrow is the 42nd Annual Castro Valley Fall Festival. It start at 10am and runs till 6pm. My family and I had a great time! I love our local business they are the best people you can ever meet, and just seeing them all on the strip made it all the more easily to see them all.
I saw some new faces and some and I missed a few. But the atmosphere was surreal; there were so many people that it blew my mind.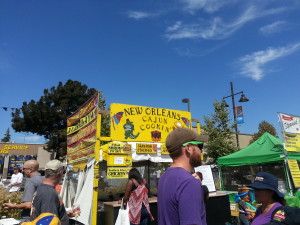 Let me just say the amazing smell of the vendors would make any tummy rumble.
The lines seem to go down the street for some food vendors and I can tell you why. If your vegan turn away this is not for you. But for all of you that love the smell of BBQ keep watching.
Oh yeah, mouth watering!!! You can smell this for blocks and this is why people were coming. But once you were there the rest is what made you stay.  There was music from live bands which sadly I couldn't get clear photos of. But you saw little kids and adults just rocking out right on the street.
But I did get some nice shots of the local vendors like "Auntie Nel's Fine Foods" best baked goods and hot food this side of Castro Valley. If you go to her site get 20% off discount when you place your first order.  www.auntienels.com
My favorite stop was the "FRESH KETTLE KORN" Oh those delicious kernels of caramel goodness has me coming around every Saturday at the Farmers Market. However, I didn't need to go there today since they were at the festival.
And after my bag loads of popcorn I headed over to Mehendi Artist nothing better than some henna tattooing while you're at a festival. I think that was Swati Shah giving a customer a lovely ink job. If you want to see their handy work, check them out at www.hennatraditions.com.
And Operation MOM were there, got to give it to the military family support group. These ladies really dedicated there time while I was there.  If you want to know what they are all about take a look at their site www.operationmom.org.
After a few hours there we got a little thirsty so we got ourselves some drinks. Not bad beer or wine for 5 bucks and you get one of these lovely glasses.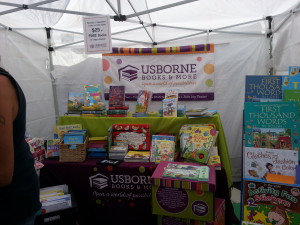 Once we had our drinks we stop off at Kate Bartolomei place called USBORNE Books & More. She is a lovely woman that is an author and lover of the written word.  My son kept snatching at her books trying to read them; we would have spent the rest of the day at her booth if it wasn't for my 11 month old daughter grumpy mood. It was a bit warm and she was on her last leg. She wanted her naptime and she wanted it now.  If you want to check her out, click www.usborneus.com.
I wish I had more photos, but it didn't dawn on me to take them when we got there. There was a big kids section with bouncy house, climbing tents, space jumpers, and tons of kids with faces paintings. Oh I almost forgot "SEW IN LOVE" where there. My favorite shop in Castro Valley. They had the cuties Halloween clothing you can check them out at http://sewinlove3113.wix.com/sewinlove.
Hello All,
Well it has been a while since I have posted, moving and family tends to slow down on the creative aspect of blogging. However that doesn't hinder creating itself, in fact I find myself creating more when I am under a lot of pressure. Much like musician play beautifully when life gets hard, or how painters make wonderful art when they are on their last dollar and haven't eaten in a few days. I myself make better even phenomenal art when I am miserable then when life is good.
For example this drawings here, (left) I was working two jobs and going to school. Did I also mention I was living with my mother and four sisters in a tiny little apartment? This drawing is called Cruelty. (Right) The Grave Digger that looks like a creature made of skin and bones I was working nights at a security company in Sunnyvale California, funny enough I was originally hired as an Administrative Assistant before my boss said sorry you need to be a dispatcher or your fired. Since I didn't have any other work line up and I finally moved out of my mother home and couldn't afford to get fired. Being a dispatcher is not a job I really want to do ever again. Not because the work was demining but because I was just not very good at it.